NOVENA OF GRACE
Hungering for relevant spiritual wisdom? Eager to connect with God amid a hectic schedule? Pray the Novena of Grace!
March 5-13, 2014
The Novena of Grace is a 9-day retreat in everyday life. It gives us an opportunity during Lent to sink down into a deeper reality where we can build true intimacy with God. If you are hungry for spiritual nourishment, eager for relevant spiritual wisdom, or longing for companionship in prayer, the Novena of Grace is for you. Join us as we humbly sing and pray with St. Francis Xavier for 9 days for our hearts deepest desires.
---
PRESENTERS FROM 2013 NOVENA
Fr. Gary Smith, SJ, acclaimed author, Jesuit Refugee Service
Jessica Heringer, M.Div, Jesuit Volunteer Corps
THEME
TBA
MASS TIMES
Weekdays| 8 am or 7 pm
Saturday, 8 am or 5 pm
Sunday, 8 am, 10:30 am or 7:30 pm
(reflections from presenters will be posted within 24 hours)
CLICK
HERE
for more information on additional sacraments offered, online reflections, tools for prayer, and more.
SACRAMENT OF RECONCILIATION
Offered for 45 minutes before Mass on the following days: TBA
SACRAMENT OF ANOINTING
Offered during the Mass on the following days: TBA
ADORATION OF THE BLESSED SACRAMENT
Monday, 9:30 am – 5 pm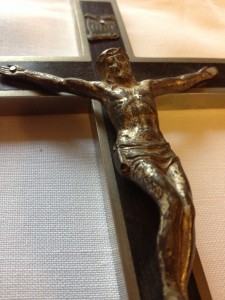 BLESSINGS
At the end of every Mass except those on the last day, you may come forward for an individual blessing with a Jesuit vow crucifix. Simply come to a person holding the cross and ask for a specific gift from God. The person will put the crucifix in your hands and pray for the grace you request. Some ask for healing from a serious illness, addiction, or a broken heart. Others ask for employment or world peace. There is no limit so freely ask your heart's deepest desire.
FREEWILL OFFERING
Are always appreciated.
EMAIL US YOUR PRAYERS
We encourage you and your community to send your prayers of petition and thanksgiving to us. We will have an entire community praying for one another and we will gladly hold your intentions for your life, your ministry, and the world in our hearts and on our prayer altar – even if you are unable to attend. Email your prayers to
novenaofgrace@gmail.com
(we'll keep them anonymous unless otherwise noted).
PRAY WITH US ON FACEBOOK
"Praying the Novena of Grace"
The Facebook group "Praying the Novena of Grace" is designed to keep us connected and growing deeper in unity even when we are "in the world." We'll include points for prayer, quotes from speaker reflections, and links to useful resources. If you feel comfortable, you can also post your prayers. The idea is that this online community also prays with and for one another for the duration of the 9 days, providing another layer of support during our retreat in everyday life.